﹛﹛
﹛﹛Following the attack on Pearl Harbor on December 7, 1941, Japanese Americans were sent to internment camps for fear of espionage against the nation. With Executive Order 9066, President Roosevelt authorized the incarceration of all people of Japanese descent, including U.S. citizens. Despite this violation of civil rights, Japanese Americans volunteered in droves to serve America. Largely serving in segregated units, they were sent to both the Pacific and European theaters where they served with distinction. The most famous of these units was the 442nd Regimental Combat Team. 21 soldiers from the 442nd earned the Medal of Honor during WWII, including the only Japanese American to receive the medal during the war.
﹛﹛
The Color Guard of the Army*s 442nd Regimental Combat Team stands at attention while citations are read following the fierce fighting in the Vosges area of France, Nov. 12, 1944 (U.S. Army)
﹛﹛Known as nisei, second-generation Japanese Americans came under increased scrutiny after Pearl Harbor. Despite the fact that most of them had never set foot on their ancestral homeland, many of their neighbors viewed them as the enemy. When they were allowed to join the war effort, the nisei were determined to prove their loyalty. Many nisei served as translators, interpreters, and interrogators in the Pacific with the Military Intelligence Service. Their knowledge of the Japanese language, culture, and customs proved invaluable in the bloody island hopping campaigns against the Japanese Empire. Almost 1,000 nisei served in the 1399th Engineering Construction Battalion. Additionally, more than 100 nisei women joined the Women*s Army Corps. In total, roughly 33,000 Japanese Americans served their country honorably during WWII.
﹛﹛
The Go For Broke Monument stands in Little Tokyo in Los Angeles (Go For Broke National Education Center)
﹛﹛In recognition of their honorable service in the face of prejudice and segregation, the United States Postal Service will honor the Japanese American veterans of WWII with a commemorative stamp. Called ※Go For Broke: Japanese American Soldiers of WWII,§ the stamp was designed by Antonio Alcal芍 and is based on a photograph of a soldier from the 442nd taken at a French railroad station in 1944. The stamp*s name comes from the 442nd*s motto, ※Go For Broke.§
﹛﹛A virtual dedication ceremony will be held on Thursday, June 3, 2021 at 11 a.m. EDT/8 a.m. PDT. The ceremony will be posted on the Postal Service*s Facebook and Twitter pages. Notable attendees include the Honorable Lee Moak, U.S. Postal Service Board of Governors and Gen. David A. Bramlett, U.S. Army (retired). This stamps are being issued as Forever stamps.
﹛﹛
The Go For Broke: Japanese American Soldiers of WWII commemorative stamp (USPS)
﹛﹛Featured image: Japanese-American infantrymen of the 442nd Regimental Combat Team hike up a muddy French road in the Chambois Sector, France, in late 1944. (Army Center for Military History file photo)
﹛﹛Articles
﹛﹛Jessica Manfre
﹛﹛Posted On May 27, 2021 22:57:28
﹛﹛
﹛﹛Army veteran and FOX and Friends Weekend co-anchor Pete Hegseth will be hosting two brand new programs for Proud American. This will be the network*s eighth consecutive Memorial Day event.
﹛﹛Memorial Day is a day which really hits home for Hegseth. ※Those of us that are really close to it# I mean, it*s on my wrist, it*s on my mind. It*s always part of why we do what we do 〞 because we*ve seen firsthand that sacrifice, and we want to make sure we follow through on it,§ he shared.
﹛﹛This thought process is visibly present in the programming FOX has created for the holiday weekend. One of the shows Hegseth is most proud of for this weekend*s lineup is Modern Warriors: Reflections. He*s been hosting the Modern Warrior series for a few years and even wrote a book with the same name, highlighting many of the veterans stories from the show.
﹛﹛※Just sitting down with combat vets over a beer and in a comfortable setting, telling the real story. Unvarnished, like, &talk to me like it is.* Three and four minute segments on the news show don*t don*t do justice to a lot of the topics we end up talking about,§ Hegseth said.?
﹛﹛Modern Warriors: Reflections focuses on the day and what it really means for veterans and how the country should approach it as well, he said. ※Ultimately it*s all about remembrance. Each guy shares someone they are thinking of and how they honor Memorial Day,§ Hegseth explained. He said viewers can catch the FOX News version of the show or go on FOX Nation and get the director*s cut, which is longer.
﹛﹛This is a series Hegseth said he always wants to keep doing. ※There are so many different, interesting characters we*ve done it with#Each time you get a new layer of what the post-9/11 life has been like for veterans in the military,§ he said.
﹛﹛Inevitably, there will be those in the American public who will thank military members and veterans for their service on Memorial Day. Educating those individuals and recognizing what the day entails is a vital message Hegseth is hoping to get across.
﹛﹛※It is important to draw the distinction. It is not about the veterans here, it*s about the folks who never came home and remembering their ultimate sacrifice,§ Hegseth said. ※My message to people this Memorial Day and every day is to stop for a moment and think about whether you are living worthy of that maximum sacrifice. Are you following through for those who gave everything or are we taking it for granted and letting it slip away?§
﹛﹛Hegseth was direct about his own experiences in combat and the weight the day holds for him. ※It is a very real thing that has affected the lives of so many. As a vet myself and with your community, I say it all the time myself that I was one bullet, RPG, IED 每 and really in my instance it was an RPG that didn*t explode 每 from being thanked on Veterans Day rather than being memorialized on Memorial Day,§ he explained.
﹛﹛
Hegseth in Samarra, Iraq (2006)
﹛﹛This doesn*t mean we shouldn*t celebrate or gather together, he said. ※Number one, drive home the consequence of the day. Number two, throw a big &ol party. Drink some beers and hang out with the people you love. The people who aren*t here would want us to do both,§ Hegseth said. ※Remember and then celebrate the lives we were gifted.§
﹛﹛With the 20th anniversary of September 11, 2001 approaching quickly, it was equally important to FOX for those heroes to be talked about as well, Hegseth said. ※I was joined by about 50 NYPD, FYNY, Port Authority and New Jersey City Fire and Police Officers. I know Memorial Day is about military service and sacrifice, but these days supporting those who serve is a 24-7 365 day thing and Tunnel to Towers does that every day,§ he explained.
﹛﹛Those terrorist attacks on America would ripple across the world and begin the now almost 20-year long War on Terror. The Tunnel to Towers Foundation not only supports those impacted by those events, but military veterans and Gold Star families too.
﹛﹛Hegseth spent time with the foundation*s Chairman and CEO, Frank Siller, who lost his brother in the attacks. He said there will be a few familiar faces on the special, too. One is Connor McGreggor, the world renowned fighter who is a big supporter of the foundation and their work.
﹛﹛In honor of Memorial Day, FOX News Media gave $25,000 to the Navy Seal Foundation to support their mission and $15,000 to the USO, so they can continue supporting military members deployed for COVID-19 vaccination efforts. They*ve also pledged to give FOX Nation to military members and veterans for a year, completely free.
﹛﹛※I am really proud of FOX Nation and FOX for doing this one year free for vets and the military#I think the vets and military that utilize it are going to love what they*re going to find there,§ Hegseth shared. ※It*s a platform committed to vets, our country, patriotism, to faith, the military and history, just things you won*t find elsewhere.§
﹛﹛※Weekends like this are another reminder of why I am so proud to be a part of FOX News and FOX Nation,§ Hegseth said. ※It*s one of the very few places that still does it right, the moments where we should be pausing and thinking about what really matters. I think viewers will see that reflected in the content that comes on this weekend.§
﹛﹛You can see the full lineup of shows for Memorial Day by clicking here and if you are a military member or veteran, you can grab your free year*s subscription to FOX Nation here.
﹛﹛Keep Reading
﹛﹛Featured
﹛﹛Tessa Robinson
﹛﹛Posted On April 29, 2020 16:11:56
﹛﹛
﹛﹛Updated: In keeping with Facebook*s efforts to report fake news, we have updated this article to include the doctor*s full statement.
﹛﹛While the World Health Organization vehemently disagrees, Dr. Juergen Rissland, a lead doctor at the Institute for Virology at Saarland University Hospital in Germany, went on the record to say: Drinking whiskey can protect against COVID-19.
﹛﹛And that is definitely one report we can all get behind.
﹛﹛While appearing on ※The Morning Show,§ Dr. Rissland was asked about whether or not drinking could kill any viruses a person may have ingested. ※Yes, of course, that*s true,§ Dr. Rissland responded. ※And the higher the percentage of alcohol, the better it is. For example, if you are a whisky lover, then that certainly isn*t a bad idea,§ he continued, while offering this bit of sage advice to pace yourself: ※But of course you need to bear in mind that you can*t do that every 15 minutes, that is something else to consider.§
﹛﹛
Virologist Jurgen Rissland, who says alcohol can protect against COVID-19. Credit: Newsflash/Newsflash
﹛﹛After being prodded a little further by the show*s co-hosts who asked him if he was really suggesting folks drink high-proof alcohol, Dr. Rissland laughed. ※I would like to say it can*t hurt, but in the end, it is definitely not a panacea. For God*s sake, you shouldn*t get me wrong here. I just wanted to make the point that the virus is vulnerable to high-proof alcohol, because it has an outer layer made of fat, and high proof alcohol destroys the virus. And one would need to drink quite a lot to get any sort of protection from infection.§
﹛﹛So we*ll take his advice with a good sense of humor# and probably a shot of whiskey.
﹛﹛Prost!
﹛﹛More on We are the Mighty
﹛﹛These are the 62 best COVID-19 memes on the internet
﹛﹛These are the 62 best COVID-19 memes on the internet
﹛﹛These are the 50 best COVID-19 memes for the week of April 6
﹛﹛This whiskey is a WWII victory, distilled
﹛﹛More links we like
﹛﹛Can the Whiskey in a Hot Toddy Cure a Cold? Doctors Explain …
﹛﹛Do You Know Whisky Can Kill Coronavirus, According to Experts …
﹛﹛5 Reasons Drinking Whisky Is Healthy For You
﹛﹛Why whisky could kill the coronavirus (but drinking it won't work …
﹛﹛Keep Reading
﹛﹛Articles
﹛﹛Miguel Ortiz
﹛﹛Posted On May 07, 2021 06:39:05
﹛﹛
﹛﹛The Army*s 160th Special Operations Aviation Regiment is the primary aviation unit that flies in support of special operations. When Rangers, Delta Force and Navy SEALs hunted Mohamed Farah Aidid in Somalia, the 160th supported them from the air. When the Navy SEALs took down Osama bin Laden, the Nightstalkers flew them in and out. When the British SAS and Navy SEALs rescued aid workers taken hostage by Afghan bandits during Operation Jubilee, well, you can guess who flew them. However, despite SEALs being flown by the 160th in the aforementioned operations, the Navy does have its own dedicated squadron for special operations.
﹛﹛
An MH-60S Seahawk of the HSC-85 FIREHAWKS (U.S. Navy)
﹛﹛Helicopter Sea Combat Squadron EIGHT FIVE (HSC-85) is a U.S. Navy Reserve squadron based at Naval Air Station North Island in San Diego, California. The squadron traces its lineage back to the legendary FLEET ANGELS of Helicopter Utility Squadron ONE (HU-1), established on April 1, 1948. As the Navy*s first operational helicopter squadron, HU-1 paved the way for all future naval rotary wing missions.
﹛﹛In 1966, HU-1 was redesignated as Helicopter Combat Squadron ONE (HC-1). When the squadron deployed the Vietnam, the demand for rotary-wing assets grew the squadron until it broke up into four new squadrons. One of these squadrons was the SEA DEVILS of Helicopter Combat Squadron SEVEN (HC-7), assigned the mission of combat search and rescue. Another was the SEAWOLVES of Helicopter Attack Squadron (Light) THREE (HA(L)-3), assigned the mission of special operations support.
﹛﹛
HH-60H Seahawks of HSC-85 FIREHAWKS conduct fast-rope operations (U.S. Navy)
﹛﹛Throughout the Vietnam War, these squadrons developed new tactics and procedures for the unique demands of their top-tier missions. After the Vietnam War, the Navy recognized the need to retain the skills of the experienced combat aviators and maintenance personnel of HC-7 and HA(L)-3. In 1975, Helicopter Wing Reserve (HELWINGRES) was established at NAS North Island.
﹛﹛Five years earlier, the GOLDEN GATERS of Helicopter Anti-Submarine Squadron EIGHT FIVE (HS-85) were formed at NAS Alameda, California. In 1993, the squadron moved to NAS North Island. The next year, HS-85 was assimilated into HELWINGRES and took on the mission of search and rescue.
﹛﹛
HSC-85 supporting Marine and Air Force special operators during Talisman Saber in Australia (U.S. Air Force)
﹛﹛In 2006, HS-85 gained the combat designation and became HSC-85 and became the HIGH ROLLERS. They also began flying the Sikorsky MH-60S Seahawk. In 2011, USSOCOM requested that the Navy stand up a dedicated special operations support squadron. HSC-85 was assigned the mission and took on their current FIREHAWKS name. They also traded their MH-60S Seahawks for the HH-60H model. Along with their sister squadron, HSC-84 REDWOLVES, the FIREHAWKS supported special operations in the Pacific and Middle East. However, in 2016, HSC-84 was disbanded. Two years later, HSC-85 traded their HH-60H Seahawks for the Block III MH-60S Seahawks that they now fly.
﹛﹛Today, HSC-85 FIREHAWKS stands as the Navy*s only squadron dedicated to providing training and readiness support to Naval Special Warfare and sister service special operations units. As an expeditionary helicopter squadron, HSC-85 deploys deploys in response to requests for forces from geographic combatant commanders. With highly skilled aircrews and disciplined maintenance professionals, the FIREHAWKS are ready to deliver top-tier support to America*s special operators.
﹛﹛
HH-60H Seahawks flying in support of joint special operations in Iraq (U.S. Navy)
﹛﹛Keep Reading
﹛﹛Featured
﹛﹛Tessa Robinson
﹛﹛Posted On April 29, 2020 16:11:36
﹛﹛
﹛﹛Sideboys salute Capt. Brett Crozier, commanding officer of the aircraft carrier USS Theodore Roosevelt (CVN 71), during a change of command ceremony on the ship*s flight deck. Crozier relieved Capt. Carlos Sardiello to become the 16th commanding officer of Theodore Roosevelt. U.S. Navy/Sean Lynch
﹛﹛The USS Roosevelt has dominated headlines lately after news broke that a few sailors had contracted COVID-19 while the carrier was at sea. First, the count of sick sailors was only two. Then, as this virus tends to go, the number grew exponentially. As of Wednesday, there were 93 crew members with the virus. Roosevelt Captain Brett Crozier requested help and after he thought enough was not being done, he was suspected of leaking the letter to the press, as it was published in the San Francisco Chronicle, Capt. Crozier*s hometown paper.
﹛﹛In the four-page letter to senior military leadership, Crozier asked for additional support, stating that only a small number of those infected had disembarked from the deployed carrier, in port in Guam. A majority of the crew remained onboard, where, as anyone who has spent time on a ship knows, social distancing isn*t just difficult; it is impossible. ※Due to a warship*s inherent limitations of space, we are not doing this,§ Crozier wrote in the letter. ※The spread of the disease is ongoing and accelerating.§
﹛﹛
﹛﹛Crozier asked that the majority of his crew be removed, asking for compliant quarantine rooms on Guam as soon as possible. ※Removing the majority of personnel from a deployed U.S. nuclear aircraft carrier and isolating them for two weeks may seem like an extraordinary measure. # This is a necessary risk,§ Crozier wrote. ※Keeping over 4,000 young men and women on board the TR is an unnecessary risk and breaks faith with those Sailors entrusted to our care. #This will require a political solution but it is the right thing to do,§ he continued in the letter. ※We are not at war. Sailors do not need to die. If we do not act now, we are failing to properly take care of our most trusted asset 〞 our Sailors.§
﹛﹛While the letter ultimately had the outcome Capt. Crozier intended 〞 many of the crew were quarantined on Guam, it came at a high cost: Capt. Crozier was relieved of command.
﹛﹛In a press conference Thursday evening, Acting Navy Secretary Thomas Modly said Crozier was removed because he didn*t follow chain of command protocol in how he handled the situation.
﹛﹛While Modly praised Capt. Crozier, he ultimately relieved him because the captain ※allowed the complexity of the challenge of the COVID breakout on the ship to overwhelm his ability to act professionally.§ You can read the full text of Modly*s statement, here.
﹛﹛※The responsibility for this decision rests with me,§ Modly stated. ※I expect no congratulations for it. Captain Crozier is an incredible man. # I have no doubt in my mind that Captain Crozier did what he thought was in the best interest of the safety and well-being of his crew. Unfortunately, it did the opposite. It unnecessarily raised the alarm of the families of our sailors and Marines with no plans to address those concerns.§
﹛﹛The crew cheered the Captain off of the ship. We wish all of the sailors on the Roosevelt a speedy recovery.
﹛﹛More on We are the Mighty
﹛﹛Navy secretary bets his job that he can fix USS Ford
﹛﹛More Sailors Are Reenlisting. Leaders Say It*s Because Navy Culture Is Changing
﹛﹛A deployed carrier has a coronavirus outbreak. Her husband is on board.
﹛﹛WATCH: 87-year-old Marine on cruise recovers from COVID-19
﹛﹛Navy won*t reinstate Crozier, holds 1-Star*s promotion over poor decision-making
﹛﹛Navy won*t reinstate Crozier, holds 1-Star*s promotion over poor decision-making
﹛﹛More links we like
﹛﹛Exclusive: Captain of aircraft carrier with growing coronavirus …
﹛﹛Mom of Theodore Roosevelt sailor 'devastated' by firing of Crozier
﹛﹛Navy relieves captain who raised alarm about coronavirus outbreak …
﹛﹛Keep Reading
﹛﹛Articles
﹛﹛Joslin Joseph
﹛﹛Posted On May 28, 2021 04:28:01
﹛﹛
﹛﹛Joe Cardona is no stranger to being a leader both in the fleet and on the field. Joe is a two-time Super Bowl Champion who plays for the New England Patriots. He was drafted as a long snapper, which doesn*t happen often and established himself as one of the most consistent snappers in the NFL. He also has set an example as a leader in the Pats* locker room. How was he able to do that? A lot had to do with his college experience: Joe is a Naval Academy graduate.
﹛﹛Cardona played for the Midshipmen and had a perfect career as a snapper which drew the eyes of plenty of NFL scouts. Playing in the NFL is tough, but Cardona also serves as a Lieutenant in the Navy.
﹛﹛Joe is partnering with USAA, during this Memorial Day to bring awareness to USAA*s digital tribute PoppyInMemory.com where people can pay homage to a lost service member. We got a chance to sit down with Cardona and talk about honoring those who lost their lives, his career and a little football.
﹛﹛View this post on Instagram
﹛﹛A post shared by Joe Cardona (@joecardona49)
﹛﹛It*s an honor to work with USAA to do a lot for service members. I am a member myself and it*s funny how that comes full circle. Poppyinmemory.com is pretty cool because it really highlights this history of remembrance with the red poppy that dates back to WWI. But now, as we enter the digital age, they have an opportunity to dedicate a poppy to a service member who made the ultimate sacrifice.
﹛﹛It*s an opportunity to highlight a loved one, whether it is a family member or friend, who made the sacrifice for our freedom.
﹛﹛The website itself is a great resource to honor members from every conflict back to WWI. Its pretty awesome and I am glad to be a part of it.
﹛﹛Most of us have someone close to us who has passed. Whether it*s a teammate, mentor or friend we all lost someone. I had a buddy who died in an aviation accident, Lt Caleb King. I just reflect about him and his family and how much he and them sacrificed so much for all of us. And for others who have died in conflicts, even if it*s not in the forefront of our mind all the time.
﹛﹛
LT Caleb King/Naval Academy
﹛﹛I hope people will take time before you kick off a celebratory weekend to go to that veteran*s memorial or park. Stop by the memorial you walk by every single day, read the names on the memorial and reflect about them on a day like this.
﹛﹛They are really good at preparing people to be excellent and every graduate wants to carry that tradition as an officer in the Navy or Marines.
﹛﹛They answer the call to serve but we all do it differently; in different paths both in and out of the service.
﹛﹛For me, having this opportunity that I never thought I would get, playing in the NFL provides that. I know I have to come every day and prove myself. But I also know I have to earn the privilege of leadership.
﹛﹛You have to earn it at the Academy, and you have to earn it with your teammates, and it comes into play in high pressure moments. There are a lot of parallels between football and military service when it comes to that.
﹛﹛Being promoted to LT is something I will never forget. I got to do it in front of my teammates and coaches who invest a lot of time in me and with peers who I served with, were there as well. For me it was awesome because it was both of my worlds coming together. The celebration that followed was pretty great, getting presented a Super Bowl ring and all, so I can*t complain about that. But it was a good moment to bring together my two worlds of football and service.
﹛﹛Joe Cardona repping @NavyFB. @ArmyNavyGame | #ArmyNavy pic.twitter.com/CJFYAxXrrf
﹛﹛〞 New England Patriots (@Patriots) December 14, 2019
﹛﹛I think Army-Navy this year, we are going to see a completely different set of circumstances. Navy had a down year, but they are hungry right now. They had a good spring camp. It reminds me of after my freshman year at the Academy and we were excited to go hit people so hopefully it*s the same for them.
﹛﹛This past year, Army got us on their home turf. But it will be a neutral site this year, so I hope we can go kick their ass.
﹛﹛In observance of Memorial Day this year, USAA is leading an effort to encourage Americans to offer a digital tribute to fallen military members by visiting PoppyInMemory.com.
﹛﹛Visitors to the site can: Learn about lives lost in military conflicts since World War ISee how to dedicate a digital poppy to a fallen military member and learn about the significance of the red poppy flowerGet involved with the conversation on social media using #HonorThroughAction
﹛﹛On Memorial Day, America remembers those who gave their lives in military conflicts to protect the freedoms we enjoy. Since World War I, the red poppy flower has been a symbol of remembrance for the ultimate sacrifice made by more than 645,000 heroic men and women.
﹛﹛Keep Reading
﹛﹛Featured
﹛﹛Miguel Ortiz
﹛﹛Posted On January 15, 2021 07:57:13
﹛﹛
﹛﹛This post is sponsored by The CW*s Walker, premiering on January 21st, Thursday 8/7c!
﹛﹛(Featured image courtesy of Wikimedia Commons.)
﹛﹛Rangers: No, not the baseball team. Nope, not the Lone Ranger. I*m talking about the real-life special law enforcement division known officially as the Texas Ranger Division. Since 1823, the Texas Rangers have taken down criminals and outlaws like Bonnie and Clyde, investigated crimes like the infamous Irene Garza murder, and protected VIPs like President William Howard Taft whose assassination attempt in Mexico was thwarted by a Ranger. Today, the Rangers serve under the Texas Department of Public Safety as the state*s Bureau of Investigation.
﹛﹛
Although Rangers have no official uniform, they are required to wear clothing that is ※western in nature§ (Texas DPS)
﹛﹛As of January 1, 2020, there were 166 commissioned members of the Texas Ranger Division across six companies. The Rangers perform a wide array of law enforcement duties. While Rangers conduct mainly criminal investigations and arrests, other programs also fall under their direction and supervision. Rangers conduct Public Corruption/Integrity investigations, Joint Intelligence and Border Security operations, and even riverine reconnaissance operations. The Rangers Special Operations Group includes tier one professionals like Crisis Negotiation Units, SWAT and SRT operators and EOD personnel.
﹛﹛As previously mentioned, the Rangers are organized into six companies in Houston, Garland, Lubbock, Weslaco, El Paso and Waco with the Ranger Division headquartered in the state capitol of Austin. Additional Rangers are stationed across the state, with each Ranger having responsibility for a minimum of two to three counties, some with even larger areas. Becoming a Texas Ranger is no easy task. Due to the high standards and illustrious legacy of the division, their acceptance rate is low. Applicants need to have an outstanding record of at least 8 years of law enforcement experience primarily investigating major crimes. As such, even military police experience does not meet this requirement. Additionally, the Rangers only recruit internally from the Texas Department of Public Safety and require applicants to be commissioned officers with the rank of at least Trooper II. If these requirements are met and the background check passed, the hard part begins.
﹛﹛
Rangers of the Special Operations Group conduct a drug interdiction on the Rio Grande (Texas DPS)
﹛﹛Applicants must undergo a written examination that includes competencies like reading comprehension, grammatical skills and knowledge, and mathematics. If they pass the written exam, they go before an Oral Interview Board. Board members have the final say in who becomes a Ranger, and who doesn*t. According to the Rangers* website, ※Little recruiting has ever been necessary and it is not unusual for many officers to apply for only a handful of openings.§ Once a law enforcement officer is accepted into the Rangers, they are required to attend at least 40 hours of in-service training every two years. However, most Rangers will conduct training that far exceeds this requirement. Additionally, specialized fields like SWAT, SRT and EOD will train constantly to keep their skills sharp and prepare for new and evolving threats.
﹛﹛According to the Texas Department of Public Safety, in 2019, the Rangers conducted 993 felony arrests and secured 562 confessions to various crimes. A whopping 537 convictions resulted in 8,531 years in prison assessed, 76 life sentences and three death sentences. All of that in one year from the work of 166 Rangers. You don*t mess with Texas, but if you*re foolish enough to commit a crime in the Lone Star State, watch your back. The Texas Rangers rarely miss their mark.
﹛﹛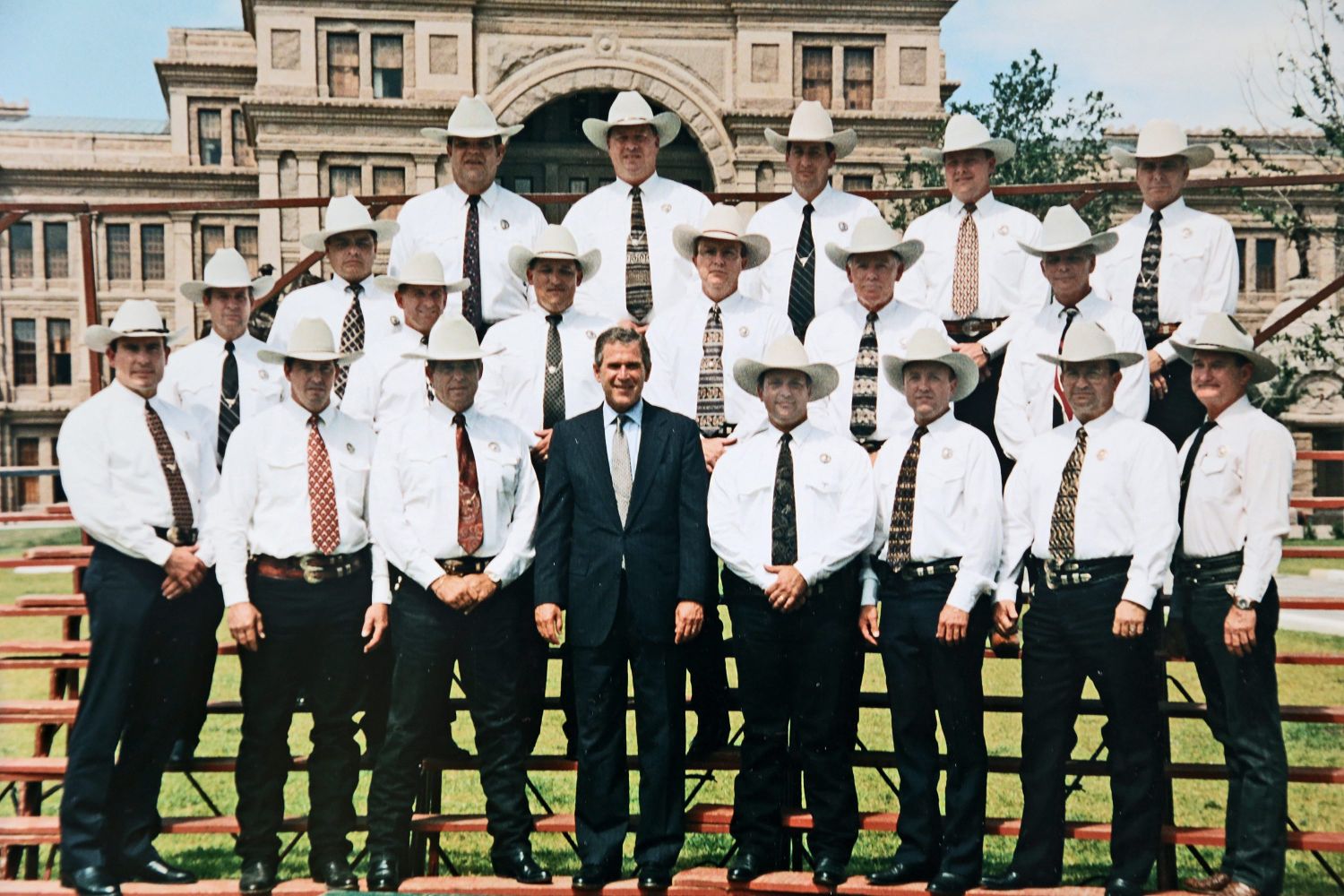 Company F Rangers with then-Governor George W. Bush (Texas DPS)
﹛﹛Needless to say, you don*t want to miss the reboot of TV*s most famous Texas Ranger. Check out Walker when it premieres on January 21, Thursday 8/7c on The CW.
﹛﹛Keep Reading
﹛﹛Featured
﹛﹛Jacqlyn Cope
﹛﹛Posted On November 24, 2020 18:43:28
﹛﹛
﹛﹛American women risk their lives for their country every day. In fact, women have served alongside men in combat long before they were legally ※allowed.§ That being said, women didn*t have the option of joining the military in fields outside of nursing until after the Vietnam War. With such a history, it*s important to tell the stories of the women who served and lost their lives while defending our country.
﹛﹛
﹛﹛Pfc. Lori Piestewa waiting for deployment at Fort Bliss, Tex., on Feb. 16, 2003. (U.S. Army photo)
﹛﹛Honoring our fallen warriors is a longstanding, sacred traditional in our military. It*s part of our DNA to recognize the sacrifice of those that die in combat.
﹛﹛Let*s take a moment to remember Pvt. Lori Ann Piestewa, who was not only the first woman in the U.S. military to lose her life in the Iraq War, she was also the first Native American woman to die in combat with the United States Armed Forces. Piestewa was a Native American of Hopi descent with Mexican-American heritage.
﹛﹛Her native name was White Bear Girl.
﹛﹛
﹛﹛Piestewa is the first American Indian woman to die in combat on foreign soil.?(U.S. Army photo)
﹛﹛Hailing from her hometown of Tuba City, Ariz., Piestewa was from a military family. She was the daughter of a Vietnam veteran and the granddaughter of a World War II veteran. Her own interest in the military began in high school, where she participated in a junior ROTC program. Piestewa enlisted in the Army and was attached to the 507th Maintenance Company in Fort Bliss, Texas and deployed to Iraq after the 2003 U.S.-led invasion.
﹛﹛Her company, the 507th, was infamously ambushed near Nasiriyah, Iraq, on March 23, 2003.
﹛﹛Piestewa was driving the lead vehicle in a convoy when one of their vehicles broke down. They stopped to make a repair, then continued north to catch up to the rest of the convoy. Along the way, they made a wrong turn and were ambushed by Iraqi troops.
﹛﹛The missing numbered 15 total.
﹛﹛A few days later, Pfc. Jessica Lynch was rescued from an Iraqi hospital. Nine members of the 507th were killed in action, including?Piestewa.?A rocket-propelled grenade hit the Humvee she was driving.
﹛﹛
﹛﹛Piestewa with her best friend, Pfc. Jessica Lynch. Lynch was also in the convoy ambushed by Iraqi forces in March 2003. (Piestewa Family photo)
﹛﹛Piestewa left behind a son, a daughter, and a mother and father, Terry and Percy Piestewa, who toured the country attending memorial services held in her honor.
﹛﹛She was posthumously promoted to Pfc. Lori Ann Piestewa and Arizona*s offensively-named ※Squaw Peak§ was renamed Piestewa Peak. It was ※given the name of hero,§ as her tribe described it.
﹛﹛Lori Piestewa will live forever in our memory and in the memory of her fellow soldiers as the Hopi woman warrior that gave her life for her country: White Bear Girl.
﹛﹛Keep Reading
﹛﹛Featured
﹛﹛Eric Milzarski
﹛﹛Posted On November 24, 2020 15:44:16
﹛﹛
﹛﹛Every Tuesday before Thanksgiving, there*s a ceremony held in which the President of the United States gives an official proclamation before a large crowd, pardoning a turkey for all the crimes they may have committed.
﹛﹛The turkey pardon is a fun 〞 albeit goofy 〞 ceremony that helps the country get into the holiday spirit, even if it began in *87 as a means of distracting people from the Iran-Contra Affair. Since then, every president has kept the tradition going because, well, America seems to love turkeys this time of year.
﹛﹛As strange as this tradition might seem, it*s really not all that out of place. The relationship between Americans and turkeys has been weird since the beginning.
﹛﹛
﹛﹛In those days, the meal was ※scraping together what they had.§ By today*s standards, a feast of venison, lobster, and duck is far more fancy than a deep-fried turkey.
﹛﹛(※The First Thanksgiving at Plymouth.§ 1914. Painting. Jennie A. Brownscombe)
﹛﹛Long before the Europeans arrived in the Americas, indigenous peoples had sort of domesticated the turkey and started breeding them, making them plumper so that they*d make for a better meal. And it made good sense to do so. Turkeys are simple creatures that, when nourished, develop into large birds with plenty of delicious meat and they*re covered in large feathers that are great for crafting.
﹛﹛Furthermore, wild turkeys can survive in a range of environments. They were found all across the New World, from the Cree peoples* lands near the Hudson Bay in Canada to the lands of the Aztecs in Mexico. Columbus himself even once remarked on how great the birds tasted. Eventually, turkey became a staple in most settlers* diets# which makes it all the more odd that there wasn*t any turkey served for dinner at the first Thanksgiving.
﹛﹛The Wampanoag people were well known for their hunting skills and brought venison because it was showcased their talents as hunters. The pilgrims brought lobster and water fowl because they were much more common. Since the settlers didn*t really leave Plymouth, turkey was of off the menu unless they ventured into native territory.
﹛﹛
﹛﹛Not going to lie, that*s kind of badass.
﹛﹛(U.S. Diplomacy Center)
﹛﹛When everyone*s gathered around the table eating turkey this Thanksgiving, you*re bound to overhear that one uncle say, ※Did you know the US almost made the turkey its national bird?§ in an attempt to look smart. Unfortunately for your uncle, no. That never happened. Not even close. That*s fake news. Yes, all of these links go to a different source disproving your uncle. But it*s not your uncle*s fault 〞 this myth has been perpetuated for hundreds of years.
﹛﹛This myth got its start just two years after the creation of the Great Seal of the United States when Benjamin Franklin wrote a letter to his daughter about the design choices. He jokingly said that bald eagles had ※bad moral character.§ He also said the bird of prey was more of a scavenger (they*re not). He went on to praise the seal of the Order of the Cincinnati, a fraternity of military officers, that had a turkey on it.
﹛﹛In case you were wondering, Franklin*s actual recommendation for the Great Seal was of Moses parting the Red Sea with fire raining everywhere and the motto of, ※Rebellion to Tyrants is Obedience to God.§
﹛﹛
﹛﹛These loud, slow-moving, flightless birds will wreak havoc on farms in the spring time when the seeds are sewn. That*s why turkey season falls around then# in most states, anyway. Some states hold it in fall so that citizens can hunt down their own Thanksgiving dinner. Happy Thanksgiving!
﹛﹛(U.S. Air Force photo by Samuel King Jr.)
﹛﹛Soon after the United States became the United States, Americans quickly started hunting down and eating wild turkeys. They hunted them so thoroughly that pioneers would almost drive them to extinction wherever they went. The turkeys survived westward expansion and steadily climbed 〞 then, the Great Depression hit and, for obvious reasons, they almost went extinct again in the 1930s.
﹛﹛After World War II, some troops returning from war went on to become game wardens, and began relocating turkeys en masse to avoid their being hunted into extinction. But how did these military veterans manage to catch large quantities of elusive turkeys in the wild? With modified howitzers shells that launched nets, of course!
﹛﹛No, seriously. These turkey-net cannons actually worked. The turkey populations went from just under 500,000 across the entire U.S. in 1959 to the roughly seven million that are fair game for hunting each and every year.
﹛﹛More on We are the Mighty
﹛﹛Thousands of soldiers in training head home for the holidays
﹛﹛This is what &Black Friday* is like for new Marine recruits
﹛﹛More links we like
﹛﹛A Much More Respectable Bird… a Bird of Courage : The Colonial …
﹛﹛History of the Wild Turkey in North America
﹛﹛American Myths: Benjamin Franklin's Turkey and the Presidential Seal
﹛﹛Keep Reading
﹛﹛Featured
﹛﹛Mandy Baker
﹛﹛Posted On April 29, 2020 16:11:05
﹛﹛
﹛﹛In March of 1965, the first U.S. troops entered the jungle-filled country of Vietnam. This would begin America*s involvement in one of the most controversial wars in the nation*s history. While the service members were facing new dangers around every turn, the environment back home was growing increasingly hostile. As more of the population grew to protest the war, it became evident that the military members fighting in the jungles of Vietnam were quickly becoming public enemy number one.
﹛﹛By March of 1973, with the war coming to an end, demonstrations in the States began to die down. However, disillusionment with the war was as widespread as ever. The troops were withdrawing from Vietnam, but there was no warm welcome and appreciation waiting for them as they arrived home. The World War II era of celebration as troops returned to U.S. soil had passed, and the troops of the Vietnam era were met with nothing more than disdain, anger and protest.
﹛﹛
﹛﹛These war veterans were thrown back into ※normal§ life without ceremony and with little to no assistance to help them adjust to life after war. This combined with the anger of the American people led many of these service members to turn to addiction and worse to cope with their inability to adjust back to civilian life. Others adjusted well enough, but went on to live their lives without the pride of their fellow veterans, always knowing deep down that their service was seen with disdain as opposed to gratitude. Even decades later, those who served in Vietnam were ignored or seen with the same contempt they were met with when they arrived home.
﹛﹛It wasn*t until 2007 when the 50th anniversary of the beginning of the Vietnam War was being observed that the movement to give Vietnam Veterans the acknowledgment they deserve truly took form. It was then that Congress authorized a program to commemorate the 50th Anniversary of the Vietnam War. However, it wasn*t until 2017 that Vietnam Veterans Day was officially established to be celebrated every year on March 29. This enactment states that the 50th Anniversary of the Vietnam War should be commemorated through 2025, thus ensuring that Vietnam Veterans Day will be observed at least through that time.
﹛﹛Along with establishing a specific day to acknowledge these veterans, there has been a movement across the country to give Vietnam Veterans the welcome home they never received 45 years ago. This movement encourages Americans to thank a Vietnam Veteran, shake their hand, and tell them, &Welcome home,* when they meet them. Each of these veterans sacrificed something in those jungles many decades ago. Many sacrificed everything 〞 while over there, or after they returned home. It is long overdue that those men are given the welcome home and the gratitude they deserve.
﹛﹛
﹛﹛They didn*t choose to enter that war, or trek through those jungles. Many of them didn*t even choose to be in the military in the first place, their choice was taken away from them when they were drafted. However, they did their duty. They fought the war. And they faced contempt when they arrived home, living with it for decades since.
﹛﹛This Vietnam Veterans Day, and every day, take the time to thank a Vietnam Veteran. Take a moment to shake their hand, thank them for their service and welcome them home. It*s a small gesture, but to them it means more than anyone could possibly know. For them, 45 years later, they are finally gaining the acknowledgement and gratitude they should have received the day they stepped foot back on U.S. soil.
﹛﹛To each and every Vietnam Veteran: Welcome Home.
﹛﹛More on We are the Mighty
﹛﹛Why names are added to the Vietnam Veterans Memorial Wall
﹛﹛4 real things Vietnam vets experienced that you won*t see in movies
﹛﹛How these Vietnam War veterans honor Old Glory
﹛﹛More links we like
﹛﹛Veterans can attend virtual events for National Vietnam War …
﹛﹛Why Vietnam War Vets Were Treated Poorly When They Returned …
﹛﹛Keep Reading
﹛﹛Featured
﹛﹛Miguel Ortiz
﹛﹛Posted On October 08, 2020 00:57:42
﹛﹛
﹛﹛Oh come on, you laughed
﹛﹛We*ve all seen the memes. The A-10 Thunderbolt II, better known as the Warthog, has become the internet*s favorite warplane thanks in large part to its signature &BRRRT* sound that it makes when it fires its massive 30mm gun. It*s highly doubtful that the engineers at Fairchild Republic that designed the A-10 could have anticipated the legendary status that the aircraft they designed would achieve, let alone that it would still be flying, 50 years in the future. After all, while the A-10 was designed to take a beating, it was also designed to be cheap and easy to maintain.
﹛﹛
﹛﹛One of the best A-10 memes
﹛﹛There*s no question that the German Panzer tanks were the most thoroughly engineered and well-built tanks of WWII. However, this attention to detail would be their downfall. Because American and Soviet tanks like the M4 Sherman and T-34 were much simpler and cheaper to produce, the allied forces were able to flood the fields of Europe with armor and overwhelm the numerically inferior German tanks. In addition to this, the allies controlled the skies overhead which made German armor easy pickings for ground attack aircraft like the Republic P-47 Thunderbolt. The lessons learned through the evolution of warfare would be applied to the P-47s spiritual successor a few decades later in the Cold War.
﹛﹛Following the end of WWII and the creation of the Iron Curtain, the Western allies of NATO embarked on a massive military buildup in order to meet the potential threat of the Warsaw Pact forces. If the Cold War were to heat up, the biggest battleground where these two sides would meet would be the Fulda Gap. Located between the Hesse-Thuringian border and Frankfurt am Main, the Fulda Gap contains two corridors of lowlands that the Soviets would have had to push their armored forces through in order to reach and cross the strategically vital Rhine River. As a result, allied armor was built up heavily in this region. The anticipated battle also influenced weapons doctrine and development at the time.
﹛﹛In order to win a fight on the ground, you had to win the fight in the air. This concept was proven in WWII. While ground forces went toe-to-toe with the enemy, air forces flew behind enemy lines in order to strike logistical targets like supply convoys, factories, roads, and bridges. From this, the doctrine of AirLand Battle was born. It emphasized close coordination between land forces acting as an aggressively maneuvering defense and air forces attacking rear-echelon forces feeding the enemy*s front-line forces. Picture divisions of M60 &Patton* Main Battle Tanks trying to hold off the onslaught of Soviet T-54 and T-54s coming through the Fulda Gap while B-52 Stratofortress bombers flew overhead to destroy the Soviet supply lines feeding their tanks. Without going too in depth, this is AirLand Battle in a nutshell.
﹛﹛
﹛﹛Admit it, you played with these; we all did
﹛﹛Another lesson learned from WWII was that tanks were more effective when they worked in concert with close air support. Combined attacks by Sherman tanks and aircraft like the aforementioned P-47 spelled certain doom for German tanks. In order to carry this concept into the Cold War, the United States developed aircraft to fill the CAS role. While the Army was given the AH-64 Apache to kill tanks from the air, the Air Force was given the A-10 Lightning II.
﹛﹛Built by the same company that built the P-47 Thunderbolt (Republic Aviation was acquired by Fairchild Aircraft in 1965 to create Fairchild Republic), the Lightning II was the Fairchild Republic submission to the Air Force*s 1966 A-X aircraft program to acquire a low-cost attack aircraft. In 1970, the Air Force issued a more detailed request for proposals to the program including the mandate that the aircraft be equipped with a 30mm rotary cannon. On January 18, 1973, after a series of tests and trials, the Air Force announced that Fairchild Republic*s submission was selected and would enter production as the A-10. The new aircraft would be equipped with the GAU-8 30mm cannon which would be built by General Electric who won their own government contract in June of the same year.
﹛﹛
﹛﹛The source of the &BRRRT*
﹛﹛The A-10 was designed to engage enemy armor in close proximity to friendly forces from very low altitude. In order to deliver precision fires and avoid hitting friendly forces, the A-10 was designed to be slow but tough. Its most important component, the pilot, is protected underneath by a titanium tub capable of withstanding armor-piercing and high-explosive rounds up to 23mm in caliber. The canopy, while not as strong, is made of ballistic glass and is capable of resisting small-arms as well as shrapnel from AA fire and missiles to a certain degree. The fuel tanks are separated from the fuselage to reduce the likelihood of damage. The fuel system is also self-sealing and lined with a reticulated polyurethane foam both inside and outside. In the event that all four main tanks are depleted, the A-10 is equipped with two self-sealing sump tanks that contain enough fuel for 230 miles of flight.
﹛﹛
﹛﹛The A-10 will do much more than bite your legs off
﹛﹛The tail of the A-10 bears a striking resemblance to WWII-era level bombers. This unusual design increases stability, like it did for those bombers, making the A-10 a very stable gun platform. This attribute is critical for a CAS aircraft. The tail also helps to mask the heat signature of the top-mounted engines. Though its twin GE TF34 turbofan engines produce just over 41 kN of thrust each (compared to the F-15 Eagle*s original Pratt Whitney F100 engines which produced over 100 kN of thrust each), the aircraft is capable of flight with just one engine. Similarly, the hydraulic flight systems are both double-redundant and are equipped with a manual backup system if both hydraulic systems fail. In all, the A-10 can fly with one engine, one half of the tail, one elevator, and half of a wing missing.
﹛﹛Here*s the part you*ve all been waiting for: the A-10*s massive gun. Yes, the GAU-8/A Avenger is bigger than a VW Beetle. Yes, it fires 3,900 rounds per minute (although it was originally designed to fire at either 2,100 or 4,200 rounds per minute as dictated by the pilot). Yes, it goes &BRRRT* when it shoots. As mentioned previously, the A-10 was designed around its gun. Although the gun itself is mounted slightly to the port side of the aircraft, the gun actually fires centerline because the barrel firing location is on the starboard side at 9 o*clock. This is critical since the gun is powerful enough to affect the aircraft*s orientation if it mounted off-center. In fact, the Avenger produces 44.5 kN of rearward thrust when it fires. In theory, the A-10 could stall itself by firing its gun. However, because its rate of fire is so high, pilots usually fire in 1-2 second bursts. Its ammunition is also very special. Made of depleted uranium which is nearly twice as dense as lead and nearly three times as dense as iron, the A-10s 30x173mm rounds are designed to punch through enemy armor like a hot knife through butter. Depleted uranium also sharpens as it penetrates armor whereas tungsten, which is slightly denser, tends to dull on impact. As an added benefit, depleted uranium is cheap and readily available as a byproduct of uranium enrichment. The A-10 can carry up to 1,350 30mm rounds, the casings of which are cycled back into the ammunition drum to prevent them from striking the aircraft or getting sucked into the engines.
﹛﹛
﹛﹛This is basically how DoD acquisitions works
﹛﹛When it comes to design, it doesn*t get much simpler than the A-10. Designed to operate from forward bases with little to no logistical or maintenance support, many of the A-10s components are interchangeable between its port and starboard side, including the engines, main landing gear, and vertical stabilizers. The wing design, sturdy landing gear, and low-pressure tires allow for short takeoffs and landings from even the most rudimentary forward landing strips. Similarly, the high engine placement helps to keep foreign object debris from entering them while operating from semi-prepared runways. The skin of the aircraft is not load-bearing and can be replaced easily in the field. Additionally, whereas most military aircraft require external power sources from ground crews in order to start their engines, the A-10 is equipped with an auxiliary power unit. This allows it to start itself and, again, operate from forward airfields with little to no support. In all, the A-10 is extremely cheap to fly, costing just ,944 per hour of operation. For comparison, the F-16 costs ,278 while the F-35 costs a whopping ,455.
﹛﹛The A-10 is a Cold War aircraft designed to cut through lines of Soviet tanks. Instead, it found renewed purpose in the War on Terror. Its effectiveness on the battlefield made it a favorite of both its pilots and the ground troops that it supported. When Congress threatened to put it on the chopping block, A-10 fans quickly took to the internet to voice their support for the &Hog*. Today, just about everyone knows about the A-10. At the very least, they know the sound it makes〞*BRRRT*.
﹛﹛More on We are the Mighty
﹛﹛You have to see this hilarious A-10 training guide from the 70s
﹛﹛More links we like
﹛﹛Martha McSally talks about her time flying the legendary A-10 Warthog
﹛﹛A-10 Warthog: The Warplane Nobody Wanted
﹛﹛Early On, The A-10 Warthog's Legendary Gun Was Both a Blessing …
﹛﹛Keep Reading
﹛﹛Featured
﹛﹛Jessica Manfre
﹛﹛Posted On January 20, 2021 09:04:57
﹛﹛
﹛﹛Dogs have long been known as ※man*s best friend§. Studies have shown documented health benefits and increasing happiness hormones for those who spend time with their furry friends. When President Joseph Biden moves into the White House on January 20, 2021 he*ll be bringing his two German Shepherds along for the adventure. One of them, Major, is in for a special surprise.
﹛﹛Major will be the first shelter dog to ever occupy the White House. This is a monumental and history making moment for all of his furry friends everywhere. To celebrate this occasion, an ※InDOGuration§ ran live on national television to commemorate the event. NBC*s Today Show host Jill Martin hosted the ceremony for Major on January 17.
﹛﹛Adopted by the Biden*s in 2018 by the DHA, Major joined brother Champ in the home. There were some rumblings when the Biden*s got Champ, since he was adopted from a breeder and not a shelter. When they were looking for another pup to join the pack, they had that in the forefront of their minds. It was actually their daughter Ashley who found Major through a Facebook posting about a litter of German Shepherd puppies at the Delaware Humane Association.
﹛﹛
Biden and his wife with their furry pooches Champ and Major Biden. 求 Picture via Twitter/FirstDogsChamp&MajorBiden
﹛﹛In an interview with The Washington Post, Delaware dog trainer Mark Tobin said that the soon to be president is ※passionate about dogs because he loves them. The soon to be president has shared in many interviews that he always had dogs growing up and even brough one with him to law school in the 1960s. The dog*s name? Senator.
﹛﹛Tobin was responsible for training Champ and getting him ready for life as the second family*s dog. He also facilitated the meet and greet when Major came home as a puppy from DHA. ※The meet and greet with Champ was funny, because you could tell Champ is like, &Oh, my gosh, this guy*s got way too much energy,*?§ Tobin shared in that same interview.
﹛﹛A children*s book titled Champ and Major: First Dogs will publish on January 19, 2021. It will follow their friendship and newly anticipated adventures together in the White House. The description on Amazon reads: Champ and Major*s dad, Joe Biden, just got a really important job: He*s going to be the new president of the United States! Major is going to be one of the first rescue dogs to live in the White House, and Champ can*t wait to show his little brother around.
﹛﹛With Major having some big learning to do, hopefully Champ will show him the ropes since he*s a seasoned White House veteran having spent eight years there himself. Reports have also surfaced that the Bidens are considering adding a rescue cat to the mix too.
﹛﹛One thing*s for sure, come January 20, 2021 每 things are about to get a whole lot more lively in the White House. And its* lawn too.
﹛﹛Keep Reading
﹛﹛Featured
﹛﹛Kait Hanson
﹛﹛Posted On November 09, 2020 20:48:49
﹛﹛
﹛﹛Like so much in 2020, Veterans Day celebrations will look different this year, but one national nonprofit is taking the opportunity in stride.
﹛﹛The Wounded Warrior Project (WWP) will be hosting the first-ever virtual Veterans Day recognition celebration, ※Honoring Our Warriors§, to encourage Americans everywhere to celebrate Veterans Day from home.
﹛﹛※Veterans Day is set aside for all of us as Americans to acknowledge those who have served in the military and sacrificed so greatly on our behalf,§ Jennifer Silva, Chief Program Officer at Wounded Warrior Project, told We Are The Mighty. ※Although many parades are cancelled, we can still show our appreciation and celebrate veterans who have made tremendous sacrifices for the liberty of this great nation.§
﹛﹛The event will take place on Wednesday, November 11 at 11:30 a.m. EST / 10:30 CST / 8:30 PST on the nonprofit*s Facebook Page and YouTube channel, and will be hosted by Jesse Palmer, former NFL quarterback and current football analyst for ESPN.
﹛﹛※Throughout my time as an NFL player and broadcaster, I*ve had the opportunity to meet many active servicemembers and veterans alike, whose integrity, valor and bravery continues to inspire me to this day,§ Palmer said. ※It is an honor to celebrate the brave men and women who have served our country, and I am looking forward to hosting this special program with Wounded Warrior Project that commends their service and sacrifice.§
﹛﹛The nationwide virtual celebration will bring to life stories of strength, courage and hope through personal anecdotes from generations of military veterans and touching reunions. Attendees can also anticipate musical performances by multi-platinum singer Sara Evans and male a cappella group Straight No Chaser 每 all to honor the United States armed forces and celebrate America*s heroes.
﹛﹛※I am so grateful for the opportunity to honor our brave U.S. veterans and support the impactful work of Wounded Warrior Project,§ Sara Evans said in a statement from the press release.
﹛﹛Throughout the broadcast, WWP will encourage participants to share their own stories and veteran tributes.
﹛﹛※At Wounded Warrior Project, we believe that every day is Veterans Day, and we work diligently throughout the year to fulfill our mission of honoring and empowering wounded warriors and their families,§ Silva said. ※We do this not only to help provide a better future for those living with the visible and invisible wounds of war, but in honor and respect of those military men and women who have gone before us.§
﹛﹛Through the generous support of donors and partners, Wounded Warrior Project serves more than 185,000 warriors and family support members by providing life-changing programs and services.
﹛﹛
WWP CEO Lt. Gen. (Ret.) Michael Linnington.
﹛﹛※Since 2003, Wounded Warrior Project has been a tireless advocate for our nation*s finest, improving the lives of post-9/11 warriors and their families, and empowering veterans to live their best lives,§ WWP CEO Lt. Gen. (Ret.) Michael Linnington said. ※While this Veterans Day looks different than years past, we are committed to honoring our nation*s heroes and hope you will tune in to our virtual celebration.§
﹛﹛Keep Reading